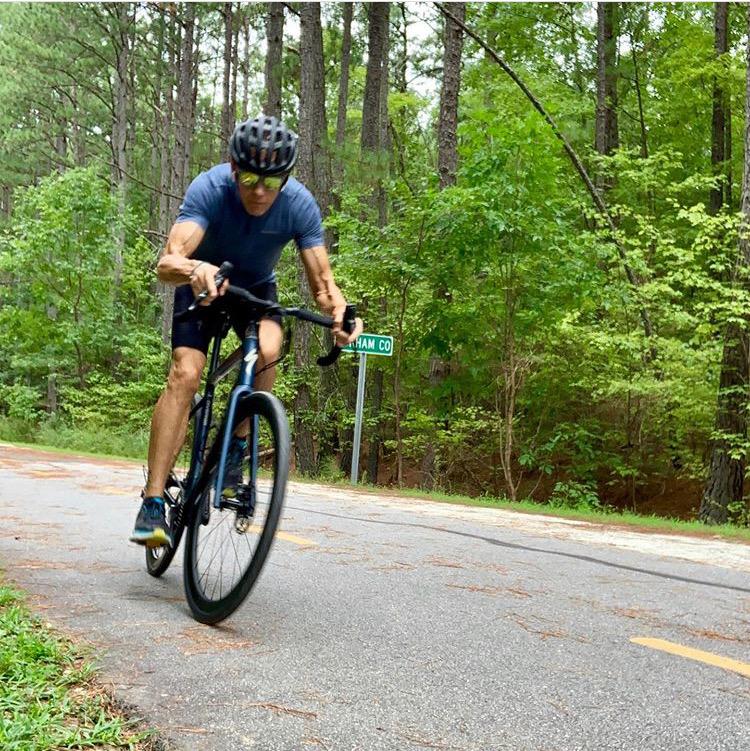 This pic was taken on a training ride on my Diverge at home in NC, a few days before packing it up for Africa.
What do Specialized Bikes and Senai Global have in common other than that they both start with "S"...? They've come together to make "Operation Diverge" (also known as "Help Charlie Find His Bike") a success!
If you read my post earlier this week, you'll remember that shortly after we landed, rather than getting ready to start the trek, we spent the first 36 hours in Djibouti wandering through sports stores, traveling back and forth to the airport, and frantically calling anyone we could think of who might have access to a a decent bike since my stellar Diverge bike from Specialized had disappeared on the flight here. (As a side note, for those of you cyclists out there, you'll understand why finding *my* bike versus any old bike is so important to me. I understand the way it rides, it fits my body, and the new, high-end Diverge model from Specialized is what's called a "gravel bike." It has the speed of a road bike but it's able to handle dirt and rocks without crashing and throwing me over the handle bars. In short, there's almost no other bike that can do what this bike can for where I'm planning on cycling in the next several weeks!).
Time to stop daydreaming about my beloved Diverge. Right? Back to Djibouti and the reality he only bike we managed to find was a low-pro knock off mountain bike from a local store that vibrates when you just touch it. Ouch. But, it was either that or no bike at all, so we bought the bike and headed back to our hotel to try to rest for a few hours before dawn. But what happened next was nothing short of incredible.
The next day…As soon as daybreak hit on the East Coast of the U.S. where my wife, Astacianna lives, she was talking about the problem with our PR manager, and they agreed to reach out to Specialized in California to see if they could help. (Specialized is a valued partner and had sponsored the Diverge bike for this trip).
Ben Edwards at Specialized quickly made several phone calls to their team along the globe and told us, "There is no way to predict how long the bike might languish in customs...Optimistically, at least a week but no guarantees." So that wasn't going to work! But then Ben came back with a bit of good news and a creative idea after talking to Kylie Hanekom of Specialized in South Africa — there was one Diverge bike in the Cape Town office of Specialized, and it was 58 cm -- exactly the size I needed. They could also help me with my helmet and bike shoes that had been in my bike box. And then Ben said, "If someone from Charlie's crew could fly to Cape Town, pick up the bike, and fly the bike to Addis Ababa, then our team in SA would love to loan you a bike. They have same model and size. Diverge 58 cm."

Crazy, right? Wait, it gets better.
Astacianna and I put our heads together and remembered that we have a friend, Drew, who works with Senai Global, one of our nonprofit partners. He splits his time between the United States and, get this...CAPE TOWN. Fingers crossed, Astacianna sent him a quick message:

"Hi Drew! Are you still in South Africa now?"

"Yes!"

"I know this is a long shot….Any chance you could help Charlie and fly with a bike from Cape Town to Addis Ababa, Ethiopia?

(Astacianna told me she got butterflies when she read Drew's answer): "Sure! I can do that for you guys. And I only live a few miles away from the Specialized headquarters here."
— NO WAY —
So as of now, Astacianna and Drew are working magic on last minute flights from Cape Town to Addis Ababa. Drew will rent a Land Rover, drive northeast towards the Ethiopia/Djibouti border to hand-deliver the bike to me, and then head back to South Africa on Sunday. What a trip!! (apply pun, if you'd like) … Look, I know that I don't have the bike in my possession yet and maybe I shouldn't get ahead of myself. But I truly feel optimistic that the universe is conspiring in remarkable ways to make this happen!
Can we all just take a minute to SLOW CLAP for Drew and Ben at Specialized and everyone else who has helped us in ways large and small? And we're only a few days into this journey! It's so humbling to me to see how friends - and even strangers - will reach out a helping hand to someone in need. Even without any benefit to them. That's exactly what this trip is all about, and I'm so grateful to be a small part of it.
While all this was happening in the background of yesterday, I did end up freediving at Lake Assal, running over very rugged terrain, and cycling on the mountain bike for about 70 miles total before we pulled to the side of the road and set up camp for the night. (I lost my crew and thought I'd have to sleep alone in a ditch, more on that later.) Never a dull moment!
I feel like part of the story of my life has been to let others own impossibilities while I take possession of what is possible. That's been true with my addiction and recovery, my time in prison, and no doubt the ultra-endurance events I've completed. With all of these moments, when things in my life seem impossible, I wait to see what's possible, and then pursue that wholeheartedly. Today was no exception!
See you down the trail,
Charlie
(sent via smoke signals, camels, and carrier pigeon to my wife at home to transcribe)
Founder of Senai Global. Superhero in this blog. Oh, did I mention he has a coffee farm associated with his charity in Yirgcheffe, Ethiopia? Yes. Going there!